This ultimate guide of the best masticating juicer for 2018 will highlight the what a masticating juicer is and why is reigns supreme over other juices.
The best part?
The 7 best masticating juicers have been reviewed highlighting their pros and cons and what produce they excel at juicing.
That's not all…
You will have the upmost confidence that you will pick the best masticating juicer to suit your needs. We have even included how easy each juicer is to clean, because we all know that the juice is the most important but, cleaning it is a very close second.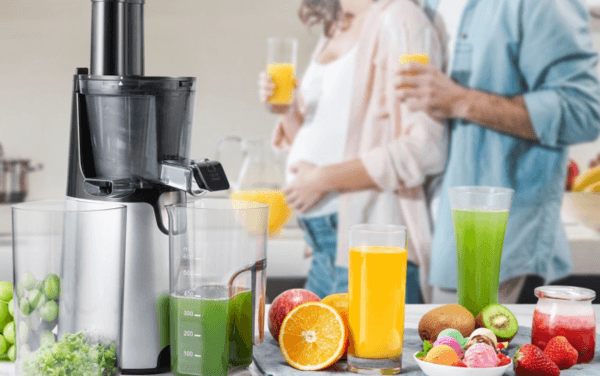 Have you been considering going on a juice fast or perhaps incorporating fruit and veggie juices in your diet? You might be wondering what a masticating juicer is and what the best models have to offer. Well, in this article we will be discussing what masticating juicers are on the market for 2018.
Part of gaining back your health and vitality will involve drastically changing what goes into your system. First things first, a detox is in order and juicing is just the thing you need. So, where do you start your quest to live a better, healthier life?
Two words, a juicer. There are many types of juicers each offering its unique set of features. In this edition, however, we will be looking at masticating juicers, the features they offer and what to expect from the different masticating juicer models.
What Is A Masticating Juicer?
So, what exactly is a masticating juicer? "Masticating" is a biological term that literally translates to "chew". Teeth in juicers are an odd combination but trust me, not in masticating juicers.
Masticating juicers feature a single gear or an auger that turns at about 80 to 100 RPM's. Which literally chews up the fiber in fruits and vegetables fed to it.
The masticating process in this type of juicer is considerably slower compared to centrifugal juicers. Masticating juicers are designed to enhance the extraction of trace minerals, enzymes, and vitamins. With the kind of thorough grinding masticating juicers do, you might as well conclude they have teeth.
Basically, a masticating juicer works by slowly grinding your fruits and vegetables with a gear against a stainless steel plate. After the produce has been ground down, the pulp is squeezed against the plate to release the precious juice. This slow but thoroughly efficient process is an important consideration when purchasing a juicer.
What Advantages Do Masticating Juicers Offer Over Centrifugal Juicers?
Remember when you were little and your Mom would insist you chew your veggies slowly? Well, masticating juicers are a great example why you should have. The slow process ensures that all the essential phytonutrients and vitamins are extracted.
Masticating juicers yield more juice compared to centrifugal juicers while also producing less waste.
A filter, screen or wire mesh lines the side of the masticating juicer's walls holding the pulp while the remaining juices are forced out.
Benefits Of A Masticating Juicer
The juice extracted retains more of the nutrients because the fruits and vegetables used aren't shredded by blades, a process which exposes the fresh produce to air speeding up oxidation.
You will get more juice from your produce by using a masticating juicer. Compared to masticating juicers, centrifugal juicers and hydraulic juicers don't extract nearly as much juice in fluid ounces per ounce of fruit or vegetable produce. This means that these babies can actually save you money.
Since the juice extraction process is also done slowly, the juice extracts are not heated up potentially denaturing them. At lower temperatures nutrients and enzymes are able to survive and kept intact in the juice.
In the following segment, we are going to discuss seven of the best masticating juicer models. These are;
Omega J8006
Champion Juicer G5-PG710
SKG Wide Chute Anti-Oxidation Slow Masticating Juicer
Aicok Machine Slow Masticating Cold Press Juicer Extractor
Omega VRT350 Heavy Duty Low-Speed Masticating Juicer
Aicok Juicer Slow Masticating Juicer Extractor
The Best Masticating Juicer Reviews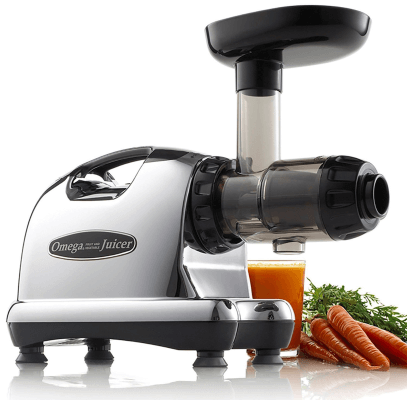 If you are new to juicing then you probably want a juicer that works like clockwork. The Omega J8006 is designed to extract and preserve all the nutrients from your produce. The Omega J8006 is also one of the best masticating juicer for hard vegetables.
If you prefer leafy greens then this juicer will amaze you. The Omega works at 80 revolutions per minute, a considerably slow speed compared to other types of juicers.
The juicing process is slow and precise which means good news for you, maximum extraction of juice from whatever produce you decide to use on this bestseller.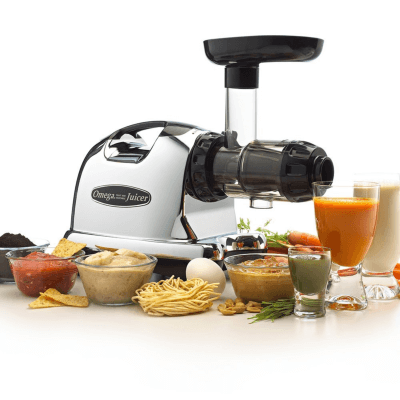 Omega J8006 Pros
The Omega J8006 does not clog ensuring you continue juicing uninterrupted. The J8006 features an automatic pulp-ejection function that allows continuous juicing without jamming.
This best masticating juicer does not foam the juice, unlike most juicers which oxidize the nutrients. With the Omega J8006, you get a smoother taste and a nutrient-packed juice.
This juicer has a beautiful metallic finish and comes in a silver/chrome and black color.
This juicer is engineered for a quiet operation and longer lifespan.
The Omega J8006 excels at juicing leafy green vegetables, soft produce such as wheatgrass and harder vegetables such as carrots and apples.
Besides making fantastic fruit and veggie juices, this juicer can also be used to make baby food, nut butter, minced herbs and garlic ground, and coffee and spices.
Omega J8006 Cons
This juicer requires regular cleaning.
The J8006 has a longer prep time and a smaller chute compared to other omega variants.
The Omega J8006 is not BPA free.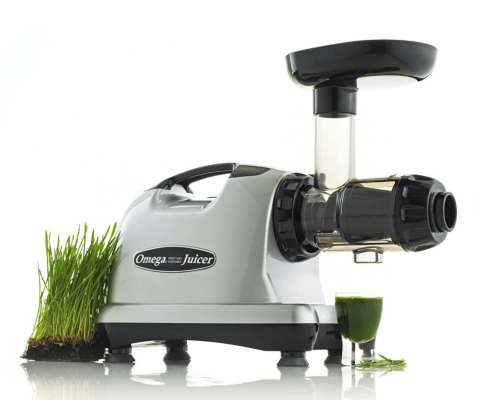 Omega J8006 Cost And Warranty
The Omega J8006 Nutrition Center will cost you around $267 including shipping charges.
You'll be pleased to learn that this juicer comes with a 15-year warranty and is dishwasher safe.
Customer Reviews And Rating
The juicer is rated 4.4 stars out of 5 on Amazon from over 3,450 customers. It is an Amazon's Choice product, which is no small feat.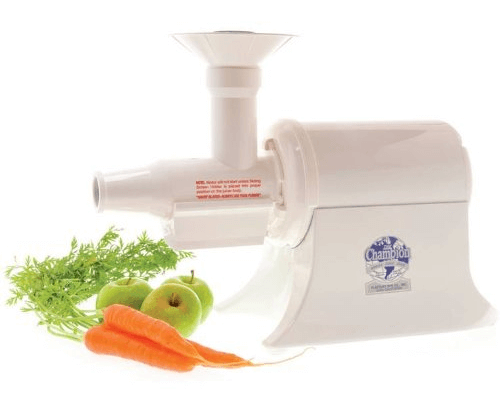 Perhaps one of the best masticating juicers on the market, the Champion Juicer is built is simplicity and ease of use in mind. The Champion Juicer G5-PG710 features a versatile design and a sturdy build which is sure to impress you. The juicer is a multi-purpose juicer that delivers consistent results even with heavy usage.
This juicer will always give you a juice rich in flavor and nutrients thanks to a 650-watt, 1/3 horsepower motor that dices and squeezes your vegetables and fruits to extract the juice.
The slow juice extraction process ensures maximum extraction juice while preventing any heat buildup which would denature the vitamins and nutrients. That way, the integrity of the nutrients is maintained giving you the healthiest dose of juice possible.
There is an extra attachment to mill grains. As well as an attachment for juicing greens.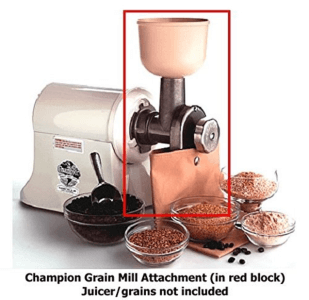 Champion Juicer G5 PG710 Pros
The champion G5 PG710 is built to be multi-purpose juicer that can handle a variety of produce ranging from leafy green vegetables, veggie stalks, fruits and pretty much anything you feel like.
This juicer has an inbuilt mechanism that continually ejects pulp ensuring once you start juicing you don't need to stop until you're done.
The design on this best masticating juicer is so simple which makes it quite easy to assemble and disassemble without any tools. The easy assembly and disassembly also mean it is very easy to clean.
All the juicing parts in the Champion G5 PG710 are made using food-grade nylon and stainless steel.
Champion Juicer G5 PG710 Cons
This masticating juicer is not dishwasher safe.
For a masticating juicer, the Champion G5 PG710 is quite noisy.
This juicer runs at a higher RPM rate which makes it unsuitable for juicing leafy greens. The yield obtained from juicing leafy greens with this juicer is lower compared to slower-speed masticating juicers.
The Champion G5 PG710 is not BPA free.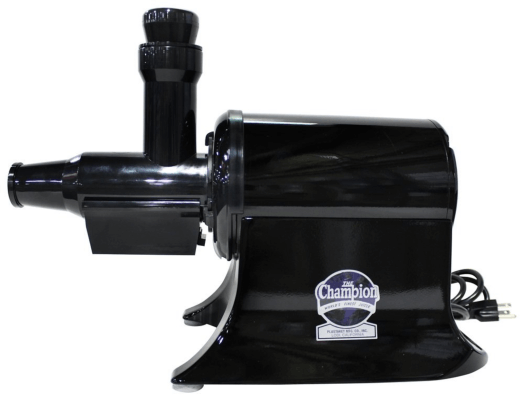 Champion Juicer G5 PG710 Cost And Warranty
The juicer will cost you around $295. It has a 10-year warranty. And comes in white or black.
Customer Reviews And Rating
The Champion G5 PG710 is one of the best masticating juicers and has a rating of 4.3 stars out of 5 from over 400 customers on Amazon.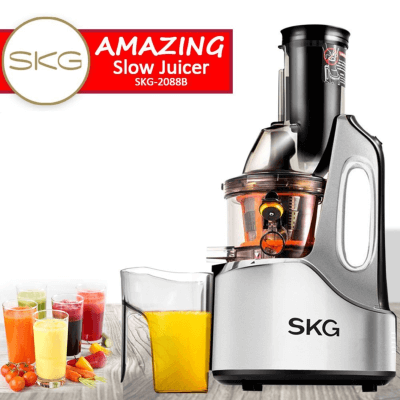 The SKG wide chute anti-oxidation juicer is a slow juicer that looks so darn good you're going to want to use it all the time. It is also one of the top masticating juicers on the market today.
As the name suggests, the juicer has a prominent four-inch-wide chute. Therefore, allows you to throw in whole veggies and large fruit pieces.
This drastically reduces preparation time and making cleaning easier making it quite a popular pick. This masticating juicer model runs on a 240-watt motor. Which runs at 61 RPMs which is even lower than the average for most masticating juicers.
This gives you more nutrients with your juices. The low speed also gives your fruit and veggie juices a more natural flavor with minimal oxidation or heat denaturation.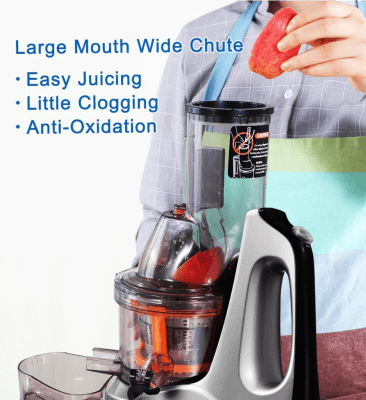 SKG Masticating Juicer Pros
Thanks to the large 4 inch chute, this juicer can accommodate larger produce eliminating the need to half your fruits and veggies. The larger chute also makes cleaning easier.
This SKG juicer runs at 60RPM which means there's absolutely no chance that the nutrients in your juice will oxidize. There's also no heat produced and therefore the heat-sensitive nutrients such as vitamins C and A are kept intact.
The compact and sturdy build of this masticating juicer allows it to deliver industrial-grade performance.
With up to 90% yield, this masticating juicer is the ideal companion for health and nutrition-conscious individuals.
The juicers plastic parts are all BPA free.
SKG Masticating Juicer Cons
The SKG wide chute anti-oxidation mastication juicer requires frequent maintenance.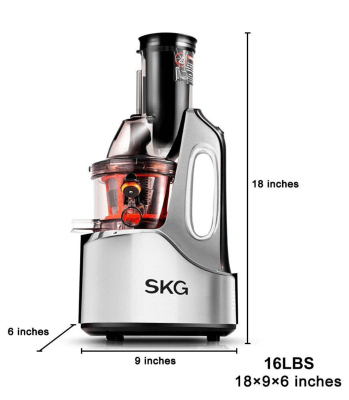 SKG Masticating Juicer Cost And Warranty
SKG Wide Chute Anti-Oxidation Slow Masticating Juicer will set you back around about $297. This best masticating juicer comes in silver color and a shade of scarlet red.
It comes with a five-year warranty on all component parts and an extended 10-year warranty for the main body and the motor.
Customer Reviews And Rating
It is rated at 4.4 out of 5 stars on Amazon fro almost 400 customers.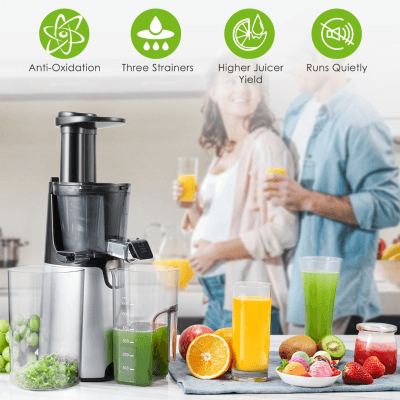 The Aicok slow masticating cold press juicer is a great pick for budget-wary individuals who prefer a masticating juicer over centrifugal variants.
This Aicok Slow Cold Press Juicer particularly excels at extracting juice from leafy greens. It also produces high-quality juices from other soft produce as well.
The Aicok slow masticating cold press juicer is built to be a multifunctional juicer. It can not only extract nutritious juices but will also step up to the challenge of making frozen desserts and baby food.
Aicok Slow Cold Press Juicer Pros
The Aicok works like a charm when juicing leafy greens such as kale and spinach.
This juicer comes with detachable accessories that include a juice strainer, juice jug, and a cleaning brush. The juicer is also easy to disassemble and clean. It is also dishwasher safe.
It performs exceptionally well with soft produce such as apples and celery amongst a few others.
The Aicok delivers reliable performance and is hence categorized among the top masticating juicer models for leafy vegetables.
The juicer operates at low speeds courtesy of a quiet, powerful yet energy-efficient 150W motor. At 80RPM the noise levels are barely noticeable.
This juicer has detachable accessories that make cleaning a great deal easier. The juicer is also dishwasher safe.
You'll be happy to know that this masticating juicer is 100% BPA-free.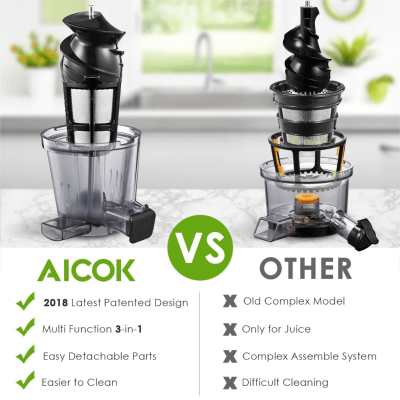 Aicok Slow Cold Press Juicer Cons
This slow masticating juicer performs horrendously with hard produce such as carrots and beets.
The quality of the juice produced from soft produce such as wheatgrass leaves a lot to be desired.
There are some concerns about foaming in some fruit and vegetable juices.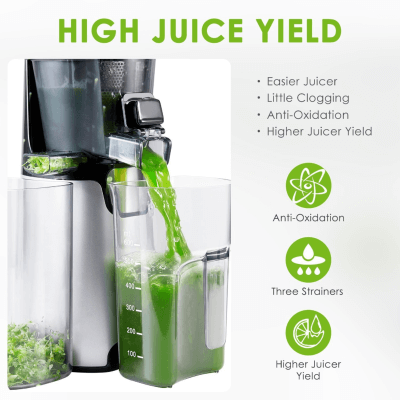 Aicok Slow Cold Press Juicer Cost And Warranty
This slow best masticating juicer goes for an affordable price of 98.99 USD .
It comes with two years' worth of warranty on parts and the motor. The juicer is available in silver, grey and black colors.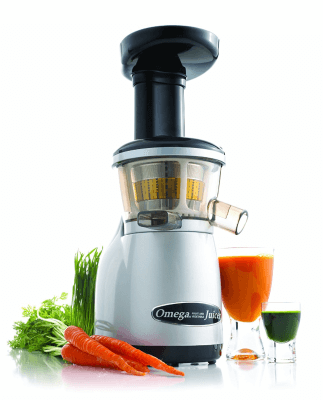 The Omega VRT350 is another revered best masticating juicer. The juicer has made a name for itself doing exactly what it was designed to do. Extract as much juice as is possible while keeping all the nutritional components intact.
The juicer operates at speeds of 80 RPM ensuring the highest retention of nutrients and also preventing oxidation and foaming for natural smooth flavor.
The Omega VRT350 features a dual stage juice processing system that extracts the maximum amount of juice possible from fruits, vegetables, and leafy greens.
Unlike most slow masticating juicers that perform horrendously with wheatgrass, this juicer has absolutely no problem handling soft vegetables.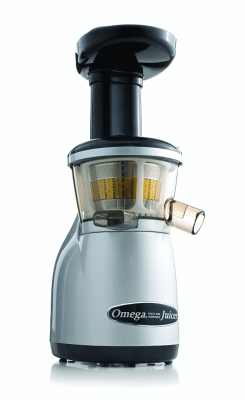 Omega VRT350 Pros
This best masticating juicer processes your produce at 80 RPM, therefore resulting in squeezing instead of grinding. This allows the juice to maintain its natural color, taste, vitamins, and
The low-speed system in this best masticating juicer limits frothing and foaming. Resulting in preventing oxidation and denaturation of the nutrients by heat. The juice can afterwards be stored for up to 72 hours without going bad or separating.
This juicer works by crushing the fruit or vegetable produce. Afterwards, prior to pulp ejection, the pulp is squeezed resulting in a higher yield of nutrient-packed juice and a very dry pulp.
This best masticating juicer has a vertical design meant to take up less space in your kitchen.
This bestselling masticating juicer is also BPA free.
Omega VRT350 Cons
This juicer is prone to clogging.
This model is not dishwasher safe.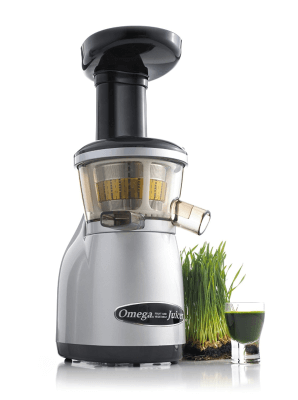 Omega VRT 350 Cost And Warranty
This best masticating juicer goes for $260 and comes in white and black colors. It is also accompanied by a 10-year warranty on the motor and other parts such as the auger, strainer, and the bowl.
Customer Review And Rating
The Omega VRT 350 has over 1000 customer reviews and a 4.1 star rating out of 5 on Amazon.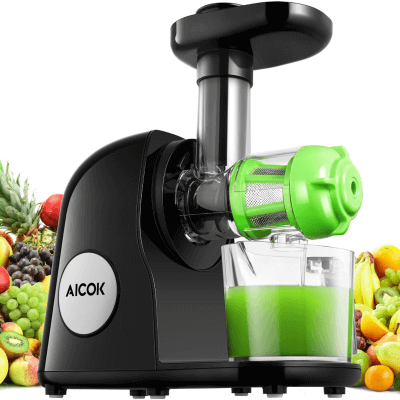 The Aicok juicer slow masticating juice extractor is a cheaper alternative to higher priced models in its category. It uses a 150 watt DC motor that turns the auger at 80 rpm.
Hence there will be no oxidation which ensures you'll be able to store your juices for longer. This speed preserves the vitamins, enzymes, trace minerals, minerals, and phytonutrients from being destroyed.
You can run this best masticating juicer for 30 minutes straight without experiencing any problems such as noise or stoppages.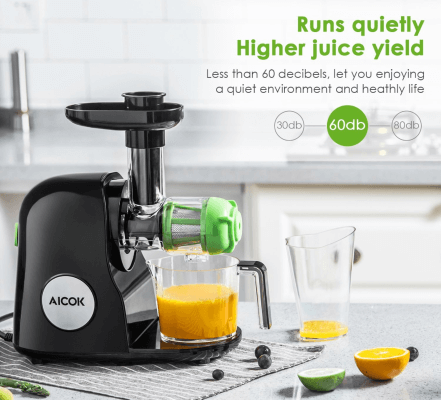 Aicok Juicer Pros
The juicer is easy to assemble, use and clean. What's more, its parts are dishwasher-safe making cleaning a breeze.
The best masticating juicer runs quietly, producing less than 60 decibels.
The Aicok Juicer slow masticating juice extractor has a heavy-duty build and a stable body that rivals industrial-grade
This masticating juicer can extract all manner of vegetables and fruits regardless of the texture. It can easily handle leafy greens, soft vegetables and even harder ones such as carrots and apples.
The juicer has a juice yield of up to 98% which is quite impressive.
100% BPA free.
It is a great investment for people trying juicing for the first time.
Aicok Juicer Cons
This juicer requires powering down every now and then to avoid overheating the motor. After every 20 minutes of use, it is advisable to turn off this juicer to avoid damaging the motor.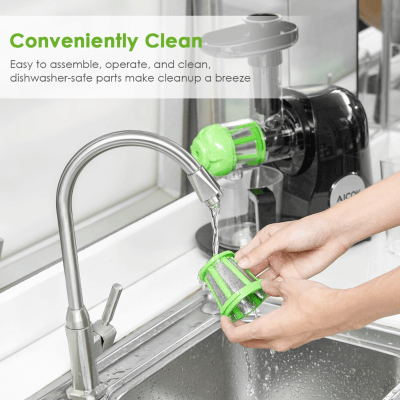 Aicok Juicer Cost And Warranty
This Aicok Juicer sells for $99. The warranty on this best masticating juicer is worth 3 years with lifelong customer service and technical consultation. It comes in a stylish black color.
Best Masticating Juicer
The top overall pick has to be the Omega VRT350 Heavy Duty Low-Speed Masticating Juicer. Its performance and specifications are unrivalled in its class hence offering the best returns on your money.
Best Easy To Clean Juicer
The top pick for easiest masticating juicers to clean is the Omega J8006.
Best Juicer For Leafy Greens
In our opinion, the best juicer for leafy greens has to be the Aicok Slow Masticating Cold Press Juicer Extractor. Its performance with wheatgrass and other leafy greens is impeccable.
In conclusion, you cannot go wrong with a masticating juicer. Depending on your needs and budget, you can pick any of the above juicers and you will not be disappointed.