Juicing for allergies and asthma entails consuming fresh fruit and vegetable juices that are rich in vitamins C and E, antioxidants and anti-inflammatory compounds.
Asthma is a long-term condition in which the lung's airways constrict in response to certain stimuli.
The condition is characterized by shortness of breath, wheezing and coughing symptoms that can range in severity from mild to life-threatening.
Why Does Asthma Occur?
During these attacks, the lungs airways become clogged with mucus secretions. Which if not cleared, can result in suffocation.
Studies conducted on the condition indicate that the primary underlying causes of asthma is chronic inflammation. Which leads to thickening of the bronchial walls and nasal passages.
This causes dramatic muscular spasms, constriction of the air passageways and consequently, difficulties in breathing.
The leading causes of asthma are suspected to be allergies, environmental pollution, and infections.
What You Need To Know When Juicing For Allergies And Asthma
There are many phytochemicals contained in fruit and veggie juices. Which include the likes of phenolic acids and flavonoids.
These can calm inflammation in the lung's airways, a key feature in the management and treatment asthma.
Herbs To Juice For Allergies And Asthma
When juicing for allergies and asthma, it is recommended to use herbs such as peppermint, oregano, marjoram, rosemary, and thyme. These are well documented dietary sources of rosmaniric acid.
Rosmarinic acid is a compound known to have beneficial properties in the management of asthma.
Rosmarinic acid has antioxidant properties that neutralize free radicals. Which has been known to block the production of pro-inflammatory chemicals known as leukotrienes.
Leukotrienes increase microvascular permeability. Which causes a contraction of the lungs airways. This stimulates the secretion of mucus while promoting eosinophil-based inflammation in the lungs.
Rosmarinic acid encourages cells to synthesize a class of compounds known as prostacyclins.
Prostacyclins keep the lungs' airways open making it easier to breathe.
Fruits And Vegetables To Juice For Asthma
Fruits and vegetables rich in Vitamin E also come highly recommended. Also known as tocopherol. Vitamin E is a potent antioxidant which decreases the risk of asthma attacks.
A bit of quercetin in your juice wouldn't hurt either. Leafy greens such as kale and spinach are an excellent source of quercetin.
The substance is an anti-histamine, antioxidant, and anti-inflammatory agent. Other sources of this powerful bioflavonoid include apples, red onions, raspberries, red grapes, and cherries.
When juicing for allergies and asthma, increased intake of vitamin C and beta-carotene has been noted to increase the lungs capacity. Whilst also relieving respiratory complications.
A breathing disorder such as asthma can, therefore, be naturally mitigated using fresh veggie and fruit juice.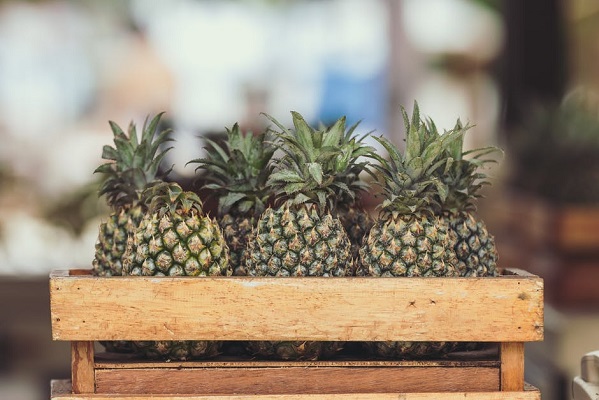 Is Pineapple Juice Good For Asthma?
Well, pineapples contain the enzyme bromelain. Bromelain, is an anti-inflammatory enzyme. It has been shown to reduce swelling which is inflammation that is present with asthma.
Bromelain also breaks up mucus to help dispel it from the body, which helps keep the airways clean.
Pineapple is also high in vitamin C which has been shown to relieve respiratory symptoms.
Juicing Recipes For Allergies Relief
As far as pomegranate juice and asthma is concerned, it is recommended to steer clear off pomegranates. Yes pomegranates, although they are extremely nutritious, however, they have been associated with allergy flare-ups.
Some fruit and vegetable juices you may want to try are as follows;
Spinach, Apple and Lemon Delight
For this combo, you will need a large handful of fresh spinach, a large apple, a wedge of lemon. You can add ice to serve.
Apple, Lemon and Pear Juice
You will need two apples, a lemon, and a large pear.
Experiment With The Following Ingredients
Other fruits and veggies you can experiment with include dark leafy greens such as broccoli, kale, and spinach, various nuts and seeds, lemons, limes, and oranges.
Others such as kiwifruit, green peppers, avocado, almonds, turnip greens, mustard greens, hazelnuts, papaya, red bell peppers, Garlic, beets, berries, ginger, and green tea make for excellent juice components.
Note that these fruit and veggie juice components are NOT meant to substitute asthma and allergy medicines. Consult your physician before commencing juicing for allergies and asthma.